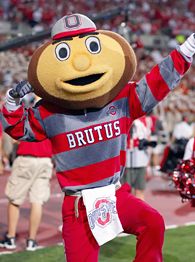 THE Ohio State University football team has added the Tennessee Volunteers to their schedule for the 2018 and 2019 seasons
. It will be a home and home series with the first game being held in Neyland Stadium on September 1, 2018 and then they come to the Horseshoe on September 7, 2019.
This year Ohio State will travel to Southern Cal for the start of a two year home and home series. In 2010 they will host the U, Miami University for another home and home two year series. I believe after that series is up, the Buckeyes have added Oklahoma University to the schedule for another home and home. The Buckeyes have bolstered their roster and their schedule for the upcoming years. For those of you out there who hate the sweater vest and THE Ohio State University, get ready because you're going to be seeing a lot of them in the future.
I mean they had to do something, Michigan just isn't enough competition anymore... That's right I said it. Stick it up your ass Rich Rod.