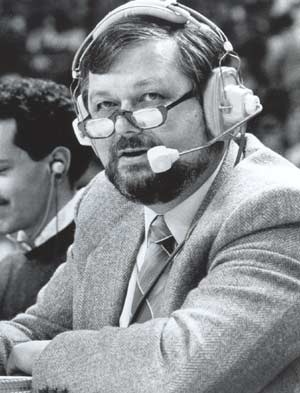 Just a quick congratulations to
Joe Tait
, the radio announcer for the Cleveland Cavaliers on 1100 AM WTAM. Tonight he has called his 3,000th game with the Cleveland Cavaliers. Though it was a losing effort, it was a great game versus the New Orleans Hornets who won their 49th game of the season and are currently in first place in the Western Conference.
Tait is a surefire Hall of Famer who has been with the Cavs on and off from their inaugural year in the league through the 1982-83 season and then every year from then to now. I believe he also calls football games for Division III football powerhouse and big rival of my alma mater, Mount Union College. If you haven't had the pleasure of listening to a Cavs broadcast on the radio to hear Joe call a game, then the next time you're in the Cleveland area try to tune in. Not to sound like a d-sack or anything, but he really does a good job.
David West won the game with 0:00.6 seconds left on the clock. Lebron James gave the Cavaliers the lead with 6.8 seconds left in the game with a great drive to the iron and strong finish. However, Chris Paul's (the best PG in the league, no questions asked) performance was too much finishing with 15 and 20. Anyway, congrats again Joe and "hhhave a goooooood night evvvvvverybody".